Open Air Photo Booth Rental
High Performance Open Air Photo Booth Rental in Cincinnati. There is a 20″ front facing monitor to see yourself and another 20″ monitor on the outside for the guests to view the fun. The booth will automatically take 4 shots – 4 seconds apart, create a 4×6 photo and print it in 10 seconds. We zoom in or out for every session so the shot will be framed perfectly, no other photo booth rental does it this way, we do it because it creates awesome results. We are also handicap friendly and can easily accommodate wheelchairs. This amazing wedding photo booth is created by us and is unique to our company. We will print an instant 4×6 photo for every guest in the booth. (Couples get one).
Green Screen Rental Cincinnati
High Performance Green Screen Photo Booth Rental in Cincinnati it is 10′ wide open air style. We use a 11 point light setup to accommodate various lighting challenges. We create one large 4×6 photo from one shot, not 4 shots like the regular photo booth does. The green screen can be replaced with up to 20 of our 1000 HD digital backgrounds or we can create a custom digital background of your choice. We also add your company logo, wedding names or other overlays you may need. There is a 22″ touch screen monitor for selecting backgrounds and a rear facing 20″ LED monitor for the guests to view the fun. This amazing green screen photobooth is created by and is unique to our company. We will print an instant 4×6 photo for every guest in the booth. See examples of our green screen photo booth.
Wedding Photo Booth Rental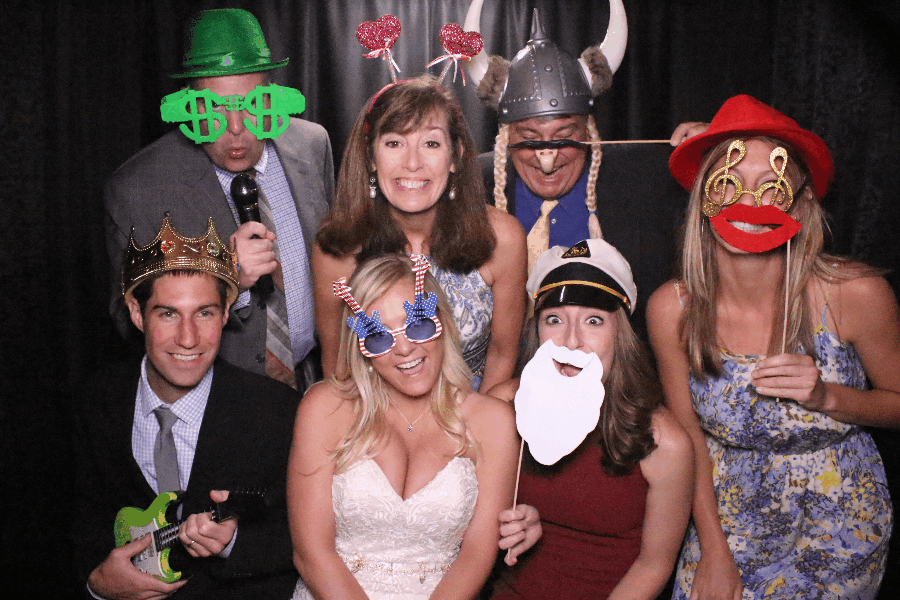 Green Screen Photo Booth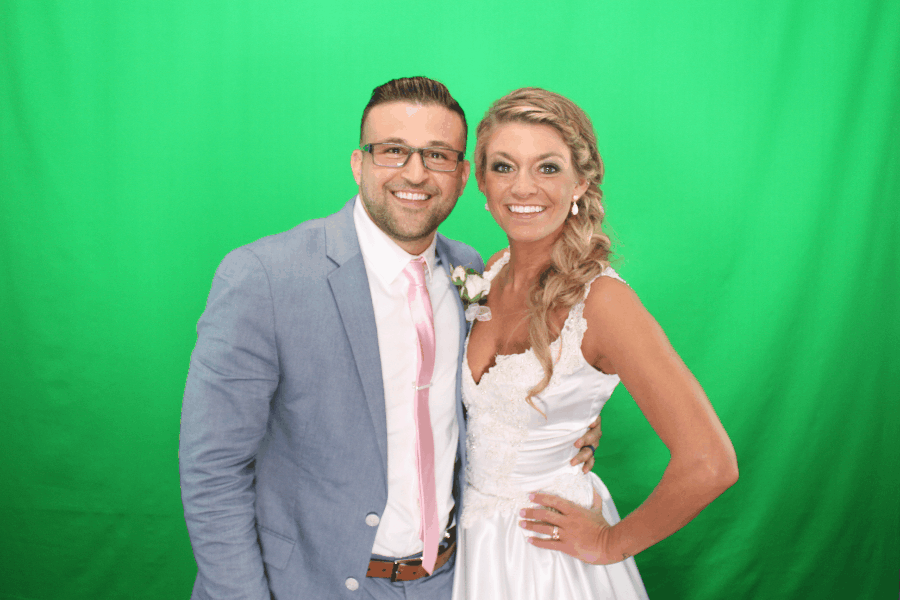 Professional Reputation

We have 100+ star reviews across all the wedding sites like The Knot, Wedding Wire, and MyWedding. We have many 5 star reviews on Facebook and Google. We have many 5 star reviews on Angies List. We have had an A+ rating with the Better Business Bureau since 2012. We know what to do and do it right every time.
Deluxe Photo Album Option
Our Deluxe rental package gives you a duplicate photo album of every session with comment areas. We provide this very nice album, give each guest a copy and put a copy in the book for you. At the end of the night we will present the album to you.  Perfect for weddings. Not included in Classic package, only available as Deluxe or Green Screen as a $99 add-on.
18 MB DSLR Camera
We use Canon 18 mp DSLR cameras that take beautiful high definition 4×6 photos.  We will tilt, pan & zoom in for 2-3 guests or zoom out for 12 guests with our pistol grip camera mount for perfectly framed guests. (Nobody else does this). We use dimmable LED lighting for accurate lighting control and the camera shutter is set to 1/60 of a second to freeze the shot. Our software controls the camera and will automatically take 4 photos 4 seconds apart with a countdown timer and onscreen live-view on both the internal & external monitors. The camera will also retain a copy of the photos as well as the laptop hard drive.
Pro Photo Software
Our software organizes the 4 shots into a 4×6 template and adds the custom side banner. We push this through with brand new quad core laptops using Windows 10 on SSD drives with 12gb ram, they are so fast they boot up in 6 seconds.  A snapshot of the current session is displayed to the guest for them to laugh at while the next photo snaps them laughing at the first photo and so on. It works really well and creates a lot of happy laughing guests. This sequence moves a guest through the booth to photo in hand in 28 seconds. With this amazing speed and efficiency, we can rock any gig from as little as 50 to over 500 and have done gigs as large as 1000 guests.
10 Sec Photo Printer
We use the awesome DNP High Speed RX1HS Dye-Sublimation Printers that are designed for events. We will print a 4×6 photo for every guest in the booth every time. (Nobody else does this) This is the same tech you see at photo print stations but much faster. It's like having your own photo lab onsite. It uses heat to transfer the image through colored film to the white stock paper in 10 seconds. It holds a roll of 700 prints and will just pump them out all night long. It even has it's own fan built in to keep it cool. It's a foot square and weighs a hefty 30 lbs. This baby monster will keep the line moving and everybody happy. This awesome system is NOT your average fuzzy webcam and slow PC ink jet printer.
Cincinnati Photo Booth Rental
Free Digital Media Package
Photo Booth Rental Cincinnati